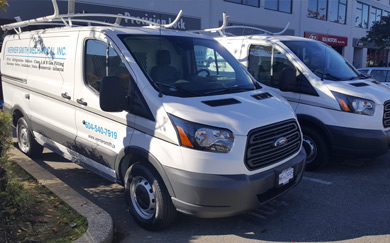 WERNER SMITH MECHANICAL INC. was incorporated as a small mechanical contracting firm in November of 1987. Having served the Metro Vancouver and Fraser Valley areas of British Columbia for nearly 30 years, we have been growing steadily and evolving continuously ever since.
Our consistent delivery of top quality workmanship and excellent customer service have earned us a reputation for being one of the Lower Mainland's leading full-service mechanical contractors. With our class leading reputation and our high level of proficiency with mechanical systems, WERNER SMITH MECHANICAL has become a highly sought-after service provider within the local mechanical and HVAC industries.
Our diverse team of talented technicians are each individually qualified in one or more of the skilled mechanical trades. In addition to their qualifications, each technician has been trained in and is familiar with proper safety procedures and best practices for environmental consideration.
WERNER SMITH MECHANICAL believes in building lasting, mutually beneficial relationships with our customers. Our approach is simple: we strive to provide prompt, professional service; we conduct business fairly and honestly; and we make a point of going the extra mile for our customers, wherever possible.